Saint runs an inn for Time Travelers, which leaves him
little time to write his trashy romance novels. Always a pit
stop in the crisscrossing lives of his out-of-date friends and
family, Saint wonders where his place is in a world that is
quickly passing him by.
Unfortunately, he also seems to attract
more… supernatural "guests," too.
Saint for Rent was nominated for a
Reuben Award - Online Comics, Long Form.
(YA- Young Adult. Sci-fi + Fantasy. Time travel. Slice-of-life.)
New to the comic? START HERE!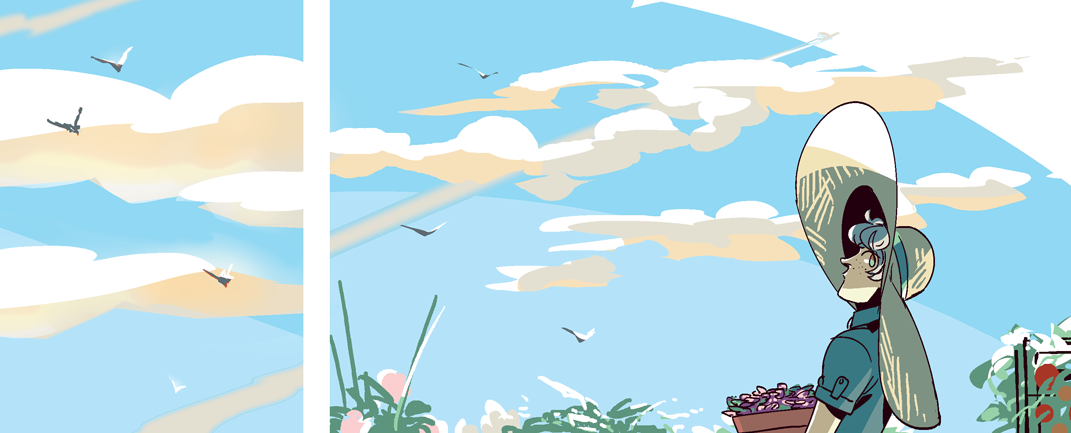 "Saint for Rent" is written and illustrated by Ru Xu.
Editing assistance for Chapters 1-4 by the wonderful William Squires and Rem.
It contains animated .gifs, historical drama, futuristic utopia/dystopia,
and the kind of non-linear storytelling in which seemingly unrelated
character arcs merge and develop as the main plot advances.
THE INNS & CAST
THE CLOVERHOUSE INN
A 21st-century bed and breakfast.
Whitby, England.
THE HELEN HOTEL
An exquisite combination of East and West, at the turn of the 20th century.
Shanghai, China.
TAXI CAB INN
From the Bronx to Broadway, In Service 1990s.
New York, USA.
LE SALON
An 18th-century crossroad between great minds and time.
Paris, France.
"The Bio-Rev/Bio-Reverse"
???

Meanwhile and Elsewhere Online...
Artist Interview: Go inside the dieselpunk-inspired world of Ru Xu's NewsPrints
by Nivea Serrao, ew.com
Artist Interview: Plan Your Day to Defeat Procrastination with Ru Xu
by Aaron Williams, comicsmanifest.com
A Webcomic Spotlight interview with me about SfR at the Mary Sue!
by Alex Townsend, themarysue.com
An interview with me about SfR and my process! :)
by Michael Dambold, cambriacomics.com
"In Saint for Rent, an inn for time travelers receives a monstrous guest"
by Lauren Davis, io9.com
"4.5/5 - Beautifully Executed Fantasy Tale"
by Greg Bretall, cosmicspectrumwebcomics.wordpress.com
"Well you certainly dragged in a real mess, kitty cat"
by Singender Tintenfisch, flyingtinkerbell.com (German)